Pilot Credentials/STEM Accreditation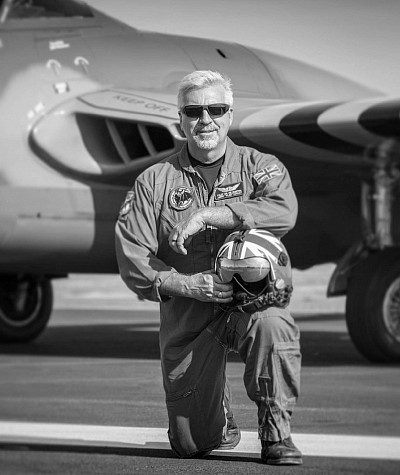 Jerry "Vlad" Conley
 Jerry Conley "VLAD" Vampire Pilot
Jerry Conley, President of Vampire Aviation, LLC. and chief pilot. Jerry's flying career started at eight years old when he got a kids book titled "Jerry the Jet" and the rest is history.
STEM Certified Pilot 2020/Education

B.S. in Mechanical and Aerospace Engineering from The Florida State University, College of Engineering. (1990)
Graduating in the top of his class being a member of the prestigious Tau Beta Pi engineering honor society.
Laboratory instructor designing  experiments for engineering courses at two major Universities.
Member  of the American Society of Mechanical Engineers, the Society of Automotive and Aerospace Engineers, and the Society of Manufacturing Engineers. 
Laboratory Instructor Florida State University COE (1984-1990)

Senior Engineer Tyndall AFB for BDM International Gulf War received company Quality Award of Excellence. (1990-1991)

Senior design engineer Mason and Hanger Engineering (1991-1993)
Consultant for NASA, DARPA, Dept of Army, USAF (1990-present)

CEO Wildcat Fuels, Inc. (1993-2013)
President Red Alert Inc. (2004-2016)
President Vampire Aviation (2016-present)
Jerry is proud to have served our country in the United States Air Force and is an honorably discharged veteran. (1980-1986)
Flying Experience


Having 42 years experience, Jerry's flying experience includes aircraft such as Beecraft Bonanza, Cessna 172, Citabria, Super Decathalon, SAI Marchetti, Bell Helicopters, HA-200 Casa Jet, Dehavilland DH-115 Vampire, Dehavilland DH-112 Swiss Venom, L-39, and AVL-29 and BAC Strikemaster. 
Jerry has performed at Airshows across the country fly high performance jet aircraft for 15 years.
His ratings include Comercial, Instrument, Multi Engine, Helicopter, and multiple jet type ratings. 
Jerry holds a Surface Level Aerobatic card with Solo Jet certification, and dogfight.
Jerry is also an avid car enthusiast having built a high performance 1966 Cobra sports car.